Episode # 72: Barry Lebow; Top real estate instructor shares the 4 Critical Levels of Differentiation that every sales consultant MUST be aware of.

I was asked to present at the first ever Canadian ReBar Camp last week which was held in Toronto Ontario … and what a blast!!
If you haven't been to one or don't know what ReBarCamp is then do yourself a favor and check out their web site.
Imagine a gathering of agents all sharing what they do in an open setting with No one trying to sell anything … ahhh heavy sigh of relief!
First of all I have to personally congratulate the organizers Shirley Porter, Evan Sage, Brad Sage, Richard Silver for putting together what I hope will be an ongoing tradition of excellence!
One of the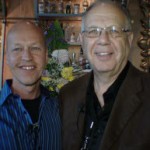 people I bumped into during the many breakout sessions was none other than Barry Lebow who is an icon in the Canadian real estate space.
He is a broker, instructor, appraiser and founder of the Accredited Senior Agent (ASA) course.
We started talking about the importance of niche marketing and being recognized as the "go to authority".
In this video Barry shares the 4 critical levels of differentiation that every consultant must be aware of.
Enjoy this video and please be sure to leave your comments below … AND … if you found it informative share this link with your friends!!!
All Good Wishes,
michael krisa
That Interview Guy®
***PS. For more great videos be sure to check out the Past Episodes Tab***