Congratulations! You are now a member of Real Estate Unplugged!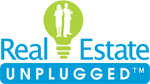 In your email you will receive important updates and valuable information from RealEstateUnplugged.com.
Your first email will contain your RealEstateUnplugged.com login and password.
Again, thank you and congratulations! You're on your way to growing your business and selling more than ever before!
The Best of Success,
Michael Krisa
>> Click here to view our Terms of Service / Cancellation Policy