Greetings!
On this page you will find the links to download the materials I promised plus some additional things I didn't even mention.
Here is the full 60 minute version of my How To Dominate Your Niche Using Video presentation:
When it comes to Twitter and using social media no one delivers a more compelling and to the point view than my buddy Scott Stratten.
Below I have included a 60 minute audio interview I did with Scott as well as the corresponding transcript.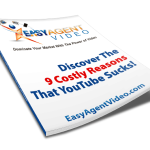 ** The Special YouTube Report ** If you are going to be hosting your videos on YouTube you need to get your hands on this report!
I sincerely hope that you enjoy them both and by all means, please spread the love by letting others know about my site.