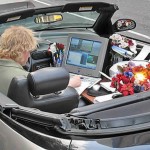 Episode #63: Brian Copeland and michael krisa discuss going completely mobile and cutting the office strings.
So who is Brian Copeland and why should you listen?
The Greater Nashville Association of REALTOR's name him Rookie of the Year, selling more homes than any other like-agent in the metropolitan area. In 2007, he was selected by Real Estate Magazine as one of the nation's Top 50 REALTORS on the Rise. He is a gold and platinum award winning agent. He is currently in the top one percent (1%) of all agents in his marketplace.
Brian may be most familiar as the featured agent on The Learning Channel's Flip That House and HGTV's House Hunters. In 2009, he appeared on the new HGTV show called Goodbuy/Badbuy, as well as a special home buying tip oriented HGTV show, currently airing nationally, called "The Top 25 House Hunting Tips." He prides himself on his 18 hour average from the time he starts looking with a buyer to placing the contract on the perfect home.
So getting back to being mobile … here is what Brian will share in this video video:
Top 3 things you need to go mobile
What sellers are looking for in their mobile agent
What you need to get wired
Lakehouse living from a laptop
and much, much more.
Enjoy the video below and please be sure to leave your comments.
All Good Wishes,
michael krisa