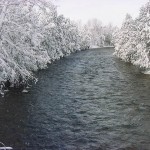 Episode # 60: michael krisa That Interview Guy Sends a Special Christmas Wish
This is the week that like me your email box gets bombarded with e-cards, images and dancing elves.
Well I wanted to do something different … something special … something that required thought and effort on my part.
So I decided to grab my banjo and create this video and my own personal Christmas Wish for you.
The problem though was that I never played a Christmas carol before on the banjo … BUT … I wouldn't let that stop me.
Merry Christmas and I hope you enjoy this as much as I did making it for you.
All Good Wishes,
michael krisa