Episode # 57: Bob Corcoran On Running Your Business Like A Business.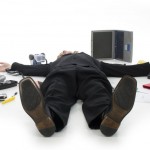 When it comes to systems and running your business like a business Bob Corcoran is one man you may want to turn an ear towards.
He has been helping top agents hone their skills since the late 80's and is still working with some of the who's who's  of real estate today.
In this video interview Bob and I discuss:
how to get started as a new agent
tips for the seasoned pro
how to have fun in real estate
what he means when he says that "You are the CEO of your business"
Please enjoy this video and leave you comments in the box beneath it.
All Good Wishes,
michael krisa