Episode # 56: CyberStar and Top Agent Ken Montville on the iPhone and its applications.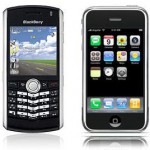 Well if you're ever sitting around one afternoon bored out of your tree here's a sure fire way to have some fun.
Go to your local Starbucks and yell out "Apple Sucks!" and then turn around and run like crazy because without a doubt there will be a riotous
mob on your heels within seconds.
Apple converts – especially iPhone users are passionate about their purchase.
Frankly I think it's a cult but with millions of users and an infinite number of applications (growing exponentially daily) I thought it was time to seriously take a look at the iPhone.
That's where Top Agent Ken Montville comes into the mix.
Once upon a time he was a Blackberry man but made the switch and vows never to go back.
In this video interview Ken shares some of the applications that he uses in his real estate practice and why he made the leap.
I hope you enjoy it and please leave your comments in the box below the video.
All Good Wishes,
michael krisa